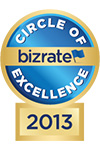 We are happy to announce that Vulcan Tire has joined the ranks of the Internet elite in receiving the Bizrate Circle of Excellence Award.
The Bizrate Circle of Excellence recognizes online retailers that have provided an outstanding online customer experience throughout the previous 12 months. This year, only 133 companies received the Award, representing 2.6% of the Bizrate's North American retailers.
Thank you to our customers and to Bizrate for the recognition!